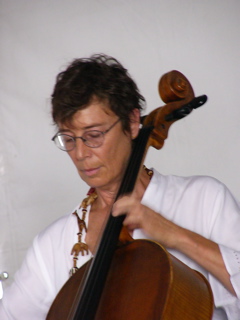 Gael Alcock: A brief bio
Gael Alcock is a member of the Cazadero Jazz Collective, M.O.S.A.I.C. (a women composers guild), and Pulcinella Duo (piano and cello). Her music has been featured on "Visual Concerts" at Strings Acoustic Showcase, on KPFA radio "Musical Offering", "Music of the World", "Radio Chronicles" and on Apadana Iranian Television, WOMR radio, and New Music Forum. Combining a love of storytelling with performing and teaching, she presents music and stories for young people in schools, museums, hospitals, and libraries. Gael also maintains a private studio, teaching group and individual lessons to students of all ages and levels.
A former member of Berkeley and San Jose Symphonies, and founder of several chamber music groups as well as an orchestra, the Concerto Collective, Gael is also a skilled improviser. She collaborates with dancers, (Cathy Weis, Lisa Nelsen, Steve Paxton, Nita Little, Boko Maru, Patricia Bulitt, Anima Mundi, Dancers' Stage), singers (Doug Cashman, Ota Pierce, Norman Jayo, Betsy Rose, Yassir Chadly, Moh Alileche, Unity Nguyen),and writers/poets (Jane Hirshfield, Maxine Hong Kingston, Adam David Miller, Eliza Shefler).
In concerts at Vorpal Gallery, the Exploratorium, Project Artaud, and other Bay Area venues, Gael has premiered cello solos by Heros Minasian, Charles Berry, Steven Damonte, Molly Axtmann, David Weber, William Ludtke, and Michael Finckel, and has participated in concerts by Composer's Alliance, New Release, Composers Anonymous, and Society for Gay and Lesbian Composers.
Ms. Alcock studied with composers Henry Brant and Vivian Fine, and with cellists Jules Eskin, George Finckel, Nicolas Hohloff, Michael Grebanier, and Colin Hampton.
She attended New England Conservatory and graduated with a major in music from Bennington College.
Gael Alcock has taught cello and chamber music at the Putney School (VT), San Francisco Waldorf School, San Francisco Community Music Center, and summer programs at Bennington College, the Crowden School, and Glasboro State Teacher's College.